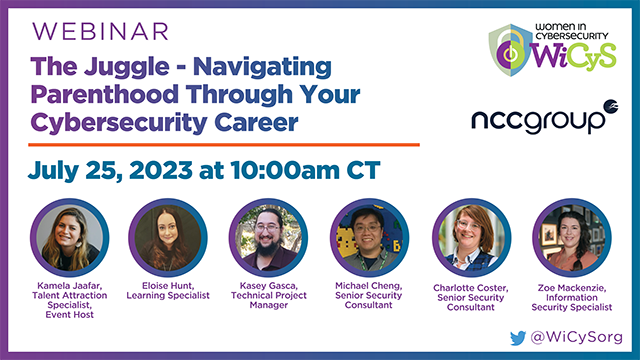 This WiCyS strategic partner webinar with NCC Group will focus on the experiences, thoughts, and suggestions of parents who work in Cybersecurity. WiCyS strategic partner, NCC Group, will lead a panel discussion with unique questions and an opportunity to share speaker stories.
Can't make it during the scheduled time? Go ahead and register to receive a recording as soon as we wrap.
WiCyS is proud to provide members the opportunity to earn CPE/CEU credits for attending WiCyS Webinars live.
To earn CPE/CEU credits with the following providers, you must meet the minimum requirements: – GIAC/(ISC)2: attend for a minimum of 45 minutes or the entirety of the webinar – CompTIA: attend for a minimum of 60 minutes or the entirety of the webinar (webinar topic must relate to the certificate being renewed)
Attendees who meet the requirements will receive a verification email to use as proof of attendance for submitting CPE or CEU credits with their provider.
Register HERE.