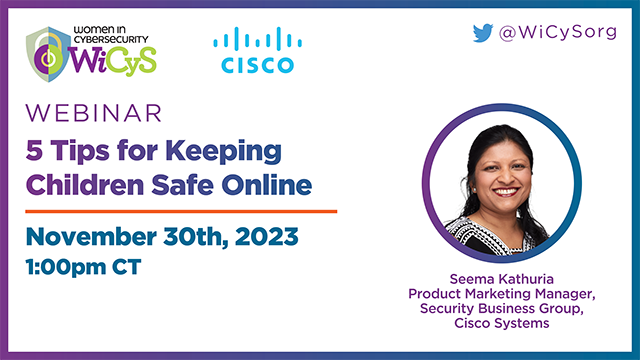 Join this WiCyS strategic partner webinar with Cisco to learn from a cybersecurity marketing expert how she helps her children safe online. Seema Kathuria will share five tips and tricks to encourage safe behavior and mitigate risk for children who use the Internet for school or recreation. This session will be fun and highly interactive.
Unable to attend during the scheduled time? Feel free to register and receive a recording as soon as we wrap!
WiCyS takes pride in being able to provide members the opportunity to earn CPE/CEU credits for attending WiCyS live webinars.
To earn CPE/CEU credits with the following providers, you must meet the minimum requirements:
– GIAC/(ISC)2: Attend for a minimum of 45 minutes or the entirety of the webinar.
– CompTIA: Attend for a minimum of 60 minutes or the entirety of the webinar. The webinar topic must relate to the certificate being renewed.
Attendees who meet the requirements will receive a verification email to use as proof of attendance for submitting CPE or CEU credits with their provider.
Register here.